Solstices occurs twice each year as the Sun reaches its zenith or its nadir. We celebrate these dramatic celestial events with great joy and feasting.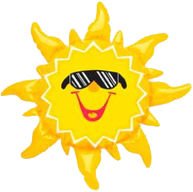 A Coupon for the Summer Sun
$4 off orders of $30+
$8 off orders of $60+
$12 off orders of $100+

This cannot be combined with any other offer, and expires midnight 6/26/2017.
Phone orders use coupon code 1706c to get discount.
Like us on facebook

---
Thank you for shopping at the Speak To Me Catalog
Order online or call us at

(800) 248-9965
---